DUBAI, United Arab Emirates - Iran's bazaars are packed ahead of the Persian New Year next week, but there's little holiday cheer as customers survey the soaring prices of meat and holiday treats, wondering if they can afford either. Others are there to sell goods on the sidewalks to make ends meet.
Crippling Western sanctions, on top of decades of economic mismanagement, have plunged the country into a severe crisis. Iran's currency, the rial, recently dropped to a record low, essentially wiping out people's life savings and making even some basic goods unaffordable.
Months of anti-government protests failed to unseat the ruling clerics and prompted a violent crackdown that further dashed hopes of any return to the 2015 nuclear deal with world powers, which lifted sanctions in exchange for restrictions on Iran's nuclear program.
As they bid farewell to a trying year, Iranians have little expectations that the next will be better.
'People are out on streets, they are shopping, but nobody is happy in their hearts,' said Azar, 58, a housewife. 'I have nothing to do [with politics], but I can perceive this feeling completely. I understand this when looking at the faces of our kids, our young people.'
She and other Iranians gave their first names only, out of fear of retribution.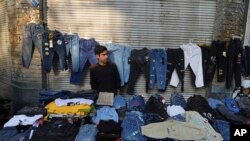 A street vendor waits for customers in Tehran, Iran, ahead of the Persian New Year, known as Nowruz, March 15, 2023. Crippling Western sanctions, on top of decades of economic mismanagement, have plunged the country into a severe crisis.
Reza, 33, used to work as a day laborer but had to stop because of an injury. Now, he sells clothes on the sidewalk.
'I became a vendor out of frustration,' he said. 'I work in hot and cold weather outdoors because I have to.
'This year, the market is not good at all. We were hoping the final days of the year would be better.'
The rial plunged to an all-time low of 600,000 to the dollar last month, down from 32,000 to the dollar when the nuclear agreement was signed.
Then-President Donald Trump withdrew the United States from the agreement in 2018 and restored heavy sanctions, including on Iran's vital oil industry. Iran responded by openly exceeding the deal's restrictions on uranium enrichment and is now closer than ever to being able to build a nuclear weapon if it chooses to do so.
Its decision to supply armed drones for Russia's war on Ukraine and its crackdown on protests, sparked by the death of a young woman in the custody of morality police in September, have further estranged it from the West. Talks on restoring the 2015 deal hit an impasse last summer.
A strange wave of suspected poisonings in girls' schools across the country has added to the sense of crisis. Nearly four months after the first incidents were reported, it remains unclear who might be behind them or even what chemical - if any - was used. Iranian officials have suggested that at least some of the reported incidents are the result of mass hysteria.
Fruit sellers talk as they wait for customers in Tehran, Iran, ahead of the Persian New Year, known as Nowruz, March 15, 2023. Iran's bazaars are packed ahead of the holiday, but there's little cheer as customers survey the soaring prices.
A Chinese-brokered agreement last week to restore diplomatic relations with regional rival Saudi Arabia led to hopes for a broader rapprochement with wealthy Arab states in the Persian Gulf that have long viewed Iran with suspicion. But the deal is unlikely to provide any immediate relief from Iran's economic woes.
Iranian officials acknowledge an inflation rate of between 40% and 50%, but some economists believe the real rate is even higher. That makes nuts, candy and other staples for the New Year holiday, known as Nowruz, unaffordable for the growing ranks of low-income Iranians.
Iranian authorities have blamed the crisis on the war in Ukraine, global inflation and a 'currency war' waged by the country's enemies.
But Iran's financial crisis began long before Russia's invasion of Ukraine, and it isn't just the sanctions that are dragging the economy down.
Iran's clerically overseen government and its paramilitary Revolutionary Guard have long had an outsized role in the economy, squeezing out the private sector and hindering growth. The country is heavily dependent on oil exports, reduced to a trickle by the sanctions.
'The prices of everything have gone up multiple times, even goods that have nothing to do with the dollar,' said Azar, the housewife. 'Many people can't really afford this. They are in trouble.'
Mahnaz, a retired civil servant, said the fall in the local currency has slashed the pensions that he and others rely on.
'Do people gather and celebrate? Everyone has to stay home. They have nothing to spend, and they can't go anywhere. In the past we would travel, but now we can't any longer because we don't have money,' he said.
'What can you do with $73 a month?' he asked. 'What can I do? Can I even buy chicken and meat?'